4 Types Heavy Duty Towing Equipment
Different Types of Heavy Duty Towing Equipment Explained
Universal Towing offers heavy duty towing services in Daytona Beach, Holly Hill, and Ormond Beach. With an expansive heavy duty towing fleet and professionally certified tow truck operators, no wonder 4 out of 5 local police and fire departments choose to work with Universal!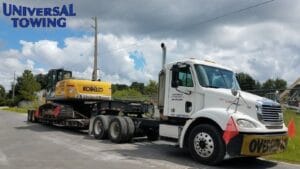 Universal can handle even the biggest of heavy duty towing jobs
This is because we have an incredible fleet at our disposal. Here are some of the key vehicles and equipment that we use for our heavy duty towing and recovery operations:

Heavy Duty Wrecker
Did you know that wrecker is just another name for a conventional tow truck? If a sedan were to need a tow in Daytona Beach, Universal would not send out its heavy duty wrecker. Instead, they would opt for their light duty wrecker. As it's name alludes to, a heavy duty wrecker is brought in to help tow heavier vehicles such as semi trucks, buses, and RVs.

Rotator
A rotator tow truck is by far amongst the largest tow trucks in the market. A rotator is an integral part of any towing company's heavy duty towing division. Rotators are fitted with a pivoting crane-like arm and can do most jobs that a crane can do! Many people prefer to use a rotator as opposed to a crane as rotators are adept at working in tight space and take up less space. You'll often see a rotator at the site of an accident involving a heavy vehicle as they have the capacity to lift up to 75 tons. A rotator can also perform all the winching maneuvers that a regular tow truck can do. Universal Towing uses its rotator for heavy duty towing jobs on a daily basis. Would you be able to tell the difference between a heavy duty wrecker and a rotator tow truck?

Lowboy Trailer
Every heavy duty towing fleet needs a few lowboy trailers. Also known as a double drop trailer, a lowboy trailer has two drops. The first drop on a lowboy trailer is behind the gooseneck. The second drop is before the wheels. The overall design of the trailer allows it to sit extremely low to the ground when compared to other trailers. This drop in height is perfect for transporting oversized equipment that would otherwise exceed transportation height restrictions. Universal Towing often uses its lowboy trailers to transport construction equipment such as bulldozers and excavators.
Forklifts and Skidsteers

One large aspect of the heavy duty towing industry that is often overlooked is cargo services included load shifts and load transfers. Universal often brings out their forklift and skidsteer when a fully loaded tractor trailer has been in an accident. If the trailer is overturned or no longer viable for transport, the Universal heavy duty towing team will help to offload the cargo and reload it onto another trailer.
We've just scratched the surface of what makes up a heavy duty towing fleet. Would you like to learn more?
In the end, you can have all of the latest equipment and fanciest technology in the world. They would mean nothing without a professional team to use them. Each and every one of Universal Towing's heavy duty tow truck operators is WreckMaster certified.